Why We Love Smartphones More Than Laptops for Getting Online (And You Should, Too!)
4G users more likely to be web-savvy than 3G ones
Did you know that smartphones are now the top device for getting online? Highlighting just how far the mobile revolution has reached into our everyday lives.
And you may be surprised to learn that after a 2015 Ofcom survey - Communications Market Report 2015 - it was found that 33 percent of UK residents use their smartphones as the main device for getting online, compared with a lower percentage of 30 using their laptops. This shows that the most important device for connecting to the internet in 2015 is a Smartphone. (See the graph below).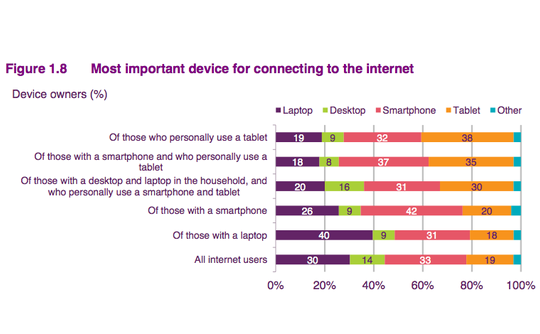 This is an increase from 2014 of 22 percent opting for Smartphones and 40 percent on laptops.
Not only do more people use just their Smartphones for getting online but they also spend more time online too. Ofcom research found that people now spend twice as long online using smartphones than desktop devices like laptops and PCs. The average Smartphone use is almost 2 hours a day, compared with only 1 hour and 9 minutes on laptops. And those on 4G networks spend longer shopping, banking and watching videos. Ofcom research says 4G users are more likely to be web-savvy than 3G ones, although I'm not sure this is totally accurate, what do you think?
Are you 'Smart' enough?
If you're a business owner and already have a website then you're half way there. Now your website needs to get smarter…. you will now need to ensure that your website is responsive so all those people using their Smartphones. This is so they can view and use your website easily and quickly. In addition, if we change your website to be 'responsive' you will come higher up in the natural search results in Google than your competitors who haven't yet got their act together.
How to prepare your website for Smartphones
Upgrading your website will enable you to keep up with technology and surpass your competitor's websites that are either not responsive, still using old code or have websites older than 2 years (or all three). Not only that but keeping your website compatible with the latest browsers and allowing your customers to view your website easily on a mobile device is paramount if you want to avoid lost revenue. We recommend the lifespan of a website nowadays is, on average, 2 years to keep up with users browsing habits and technology upgrades – probably similar to a computer and the software within. So with this in mind, if your website is older than 2 years we would recommend an upgrade.
Why do I need a responsive website?
Responsive websites adjust to the device your customers use to view your business online. You can reach a higher audience especially those who use mobiles and tablets for their online activity. Therefore offering visitors to your website a good experience on the device of their choice will help retain them and convert them to customers. Read more on responsive website design
We are here to help you and we want your online business to thrive, so if you have any questions please do ask us by emailing webdesign@aprompt.co.uk or calling 0845 224 5806.
Written By Kirsty Paget