Following our website design and web development process ensures the successful launch of your new responsive website. We are experts in designing and building mobile-ready, feature-rich, functional and professional websites that work hard and smart for your business. That way, you get to focus on the day-to-day operations of your business, while we help make it work online.
Website designers process
Here you can see our website designers process and average timescales for our Pay as you go websites and our custom website designs.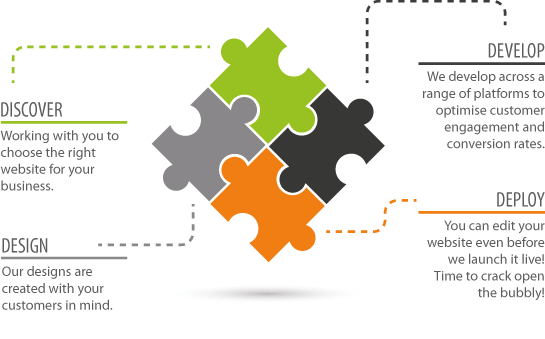 Our process is the same whether you choose our low cost websites on a Pay as you go basis (CMS Express template website design), or Pay as you go CMS Premium custom website design or fully custom website design for CMS, eCommerce or web app development.
With every website design we create, you will receive great customer service and expert advice for the life of your website.
Web design timescales: Pay as you go websites
When placing your order for a 'Pay as you go website', please use these timescales as a guide for website design start and completion dates.
Phase 1 - Project discovery
Includes order placement for all packages: 1 day
We'll discuss the best package for your needs and your target market. Your order is then confirmed, a setup fee invoice is issued with the D/D form to complete. After your payment is received and your D/D is set up, we can start your website project. Please provide your logo as a high quality jpeg, PDF or EPS file. A design brief is taken for Premium Website Packages.
Phase 2 - Express website design
For CMS Express Packages: 1 day
You can choose your preferred design from the ones we will supply. Colours are changed to match your brand image as directed by you and your logo is added. Up to 1 round of revisions are included - any further revisions are chargeable.
Phase 2 - Premium website design
For CMS Premium Packages: 2 weeks
The website home page is designed, as per your design brief, and provided to you as a 'mock-up' ready for your comments and approval. Up to 3 rounds of revisions are included - any further revisions are chargeable. The design is then amended if required before a final sign-off.
Phase 3 - Develop and deploy
For CMS Express Packages: 1 week
For CMS Premium Packages: 2-3 weeks
The website is built with the powerful Content Management System and optional Blog and Gallery and loaded live on our development server ready for you to edit and add pages or check the content if you have asked us to add it for you. (See fully managed website package).
Your monthly payment will begin from the date this website link is emailed to you and the 1st month payment will be calculated pro rata. Thereafter the full rate will be due on 1st of each month collected by D/D. We will launch your site live when you're ready!
(All timescales exclude public holidays)