'Pay As You Go' CMS websites
Our web designers understand the needs of hard working business owners, so we have created the perfect custom built 'pay as you go websites' to suit your business that can grow as your business grows. All aprompt pay as you go websites are responsive CMS (Content Management System) websites.
Need a new CMS website? or you've had your current website for more than 2 years and you know it needs a refresh and code updating? We're here to help you
Do you need a responsive CMS website, with optional Blog and Gallery, quickly and without fuss but you need it professionally designed and built? That's what aprompt specialise in
Have you tried 'online website builders' from large companies such as GoDaddy or Wix and realised they're time consuming, slow to load and get hacked regularly? Have you had to do all the work yourself to build the website (it can be incredibly time consuming and if you don't know what you're doing it can damage your online business... Ouch!

Don't worry, with the aprompt website templates available with our CMS Express website packages we build the website and set it all up for you. You just choose which package you want and we do the rest! if you want a bespoke design, just choose our CMS Premium website packages - our bespoke designed website builder. We can even add your content too! We are here to make your life easier so you can concentrate on running your business and not have to learn how to build a website from scratch.
Prefer not to have big upfront payments? OK - we offer small monthly payments starting at only £40+VAT/month with our CMS Express packages
You get a dedicated, experienced website design and SEO expert to speak to whenever you need
No long term contracts!
We care deeply about your business success because your success is also our success! There is no catch. We just want to help businesses like yours thrive online so we are making custom CMS websites affordable for all.
Custom eCommerce websites
Need a shop website? We create those too but as custom eCommerce websites - not Pay As You Go - this is because each function within an eCommerce website can be different depending on the products you're selling. Therefore please view our eCommerce website design. We provide custom designed and custom built eCommerce websites, within weeks. eCommerce websites are not part of our 'Pay as you go' websites packages but let us know what you'd like and we can help your business thrive online.
Choose your 'Pay as you go' website package
Your new website will be stunning. It will be search engine friendly and smart phone, tablet and desktop-ready all in one. All our websites use our secure custom built CMS (Content Management System) which is VERY easy to use. Both 'Pay as you go website' design packages come with an optional Gallery and Blog.
Choose a Pay-as-you-go website design template OR a Pay-as-you-go custom designed website.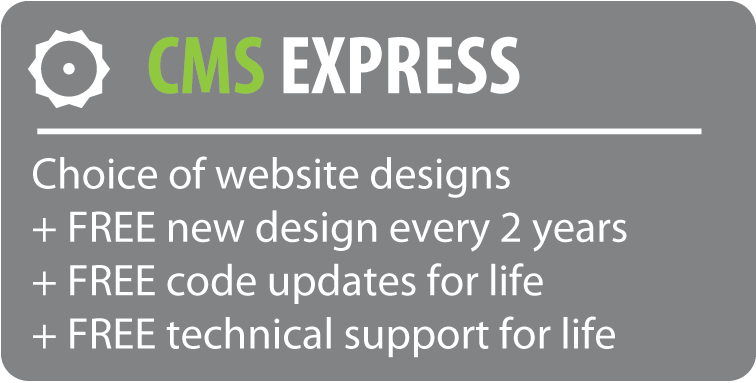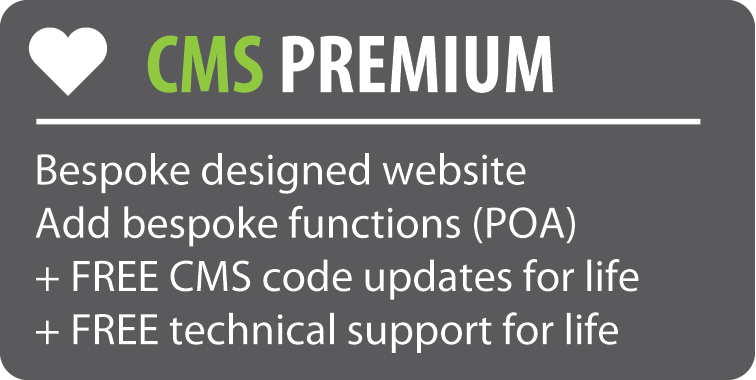 Looking after the essentials
Our CMS Express and CMS Premium 'pay as you go website' packages provide the must-have features for your business including:
Responsive design and build: Setup for smartphone capability
Custom built CMS (Content Management System): add, edit, delete, disable, enable multiple pages online for FREE
Optional Blog and Optional Gallery
FREE technical support
Fully managed UK-based website hosting at no extra cost
FREE Unlimited POP3 email accounts and webmail
PAY-AS-YOU-GO: No contracts!
One small set up fee
Simple monthly D/D payments - No big upfront payments
Built-in onsite SEO tips and tools
Google Analytics integration to view your online success
Twitter integration and editable social networking icons
Choose from one of our stunning designs and we'll amend the colours to match your branding (for CMS Express websites) or
We will create you a custom design (for CMS Premium websites)
View our low-cost website prices then
Choose your website package to suit your business
Contact our website designers in Wiltshire for your new website design