Each website we create includes SEO tips and tools for on-site SEO. These tools guide you to help your website get better natural listings in search engines like Google. But if you don't have time to create SEO friendly content, we can do it for you. Ask us for a content-managed website package.
You can't market a business without content. All communication between your leads and customers flows through content. And the way you generate those leads and customers in the first place is through—you guessed it—content. But content creation can be an arduous process if you don't know how to do it right.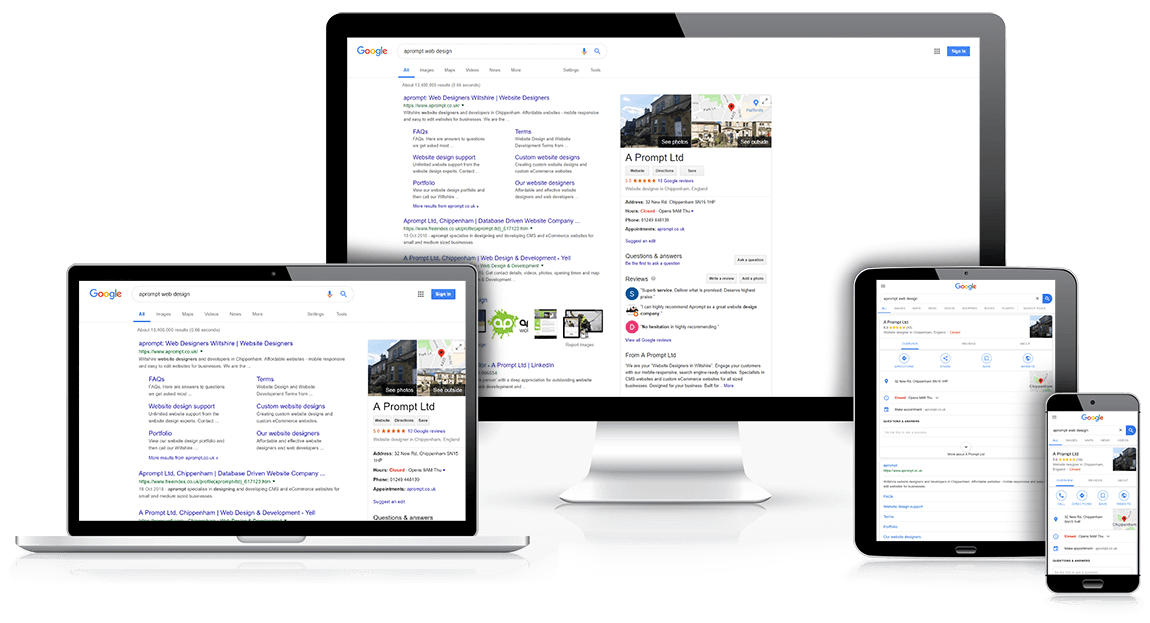 What's so clever about writing?
We can all write copy, can't we?
Yes, we can all write, but search engine friendly copy really makes those words work. Website copywriting is directed and focused, it is creative, it communicates to its audience, and above all it enhances a website and makes it work hard for the owner.
You need to get the reader's attention and interest within the first few seconds of viewing a web page. Visitors leave a website as quickly as they come if they are not immediately attracted to the site.
Once you have their attention you need to give the reader your message – clear and concise.
What is SEO?
SEO stands for Search Engine Optimisation (US spelling is Search Engine Optimization). SEO is a way of optimising your website and website content to get higher natural listings in SERPS (search engine results pages) such as Google. aprompt website designers are UK based SEO experts who know how to get the best out of your website and its content so the site reads well for humans, as well as search engines.
Subscribe to our website content management package to ensure your website content is always up to date and search engine friendly.
SEO - Ignore at your peril
Users rely on search engines to find the products and services they want. Your customers also find suppliers via recommendations on social networking sites and Blogs, so your website needs to show on the 1st few search engine results pages (in between all those ads!) for what you do rather than who you are, otherwise you could be losing out on business.
SEO copy writing process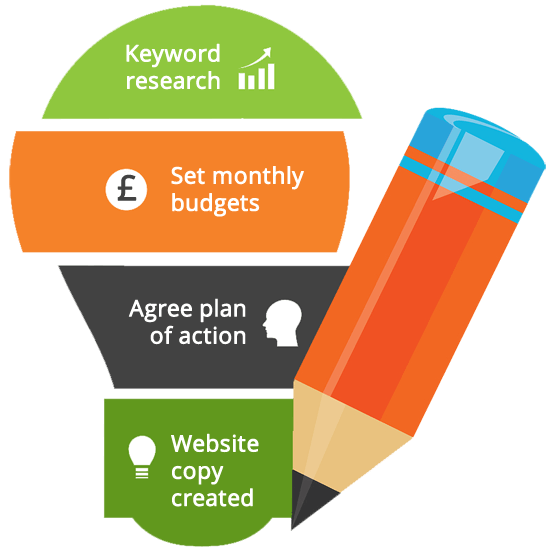 All aprompt websites are editable and have onsite SEO tips and tools built in. This is so you can edit the meta information and the website content yourself, whenever you wish. However, if you don't fancy researching key words, writing meta information or writing the content for your website, we can do this for you using our SEO copy writing services. Try our content managed website package.
Copy writing for websites
Copywriting for web sites is all about keeping the interest of the audience once they have found your website and then getting your message across. Attention span is short on the web, so good copy is the difference between an average website and an excellent website.
You are in competition with many others, and to ensure that your web site works as hard as possible every aspect needs to be considered – design, development, layout and copy.
Copywriting for websites is not about cramming in keywords, because that doesn't work on any level. It is about understanding your audience, understanding your product, and understanding the medium you are using. This all sounds like common sense – but if it were that easy everyone would be doing it, and everyone would have a really successful website. That's not the reality – there are many poorly designed and badly written websites, so with a little thought and expertise your website could be way ahead of your competition. You could be getting sales or contacts from a large percentage of visitors, rather than just a handful. Increased sales hopefully means increased profits.
The World Wide Web has changed how people read content – they behave differently when looking at a screen than when reading a magazine. The basic rules of communication still apply, but then you add web-writing rules as well.
If you're looking for the extra copy advantage contact aprompt now!
Want to learn how to SEO your website? Book yourself in to a one-to-one SEO training course with us.
There's no need to have an aprompt website to join our SEO training courses in Wiltshire although it does help.