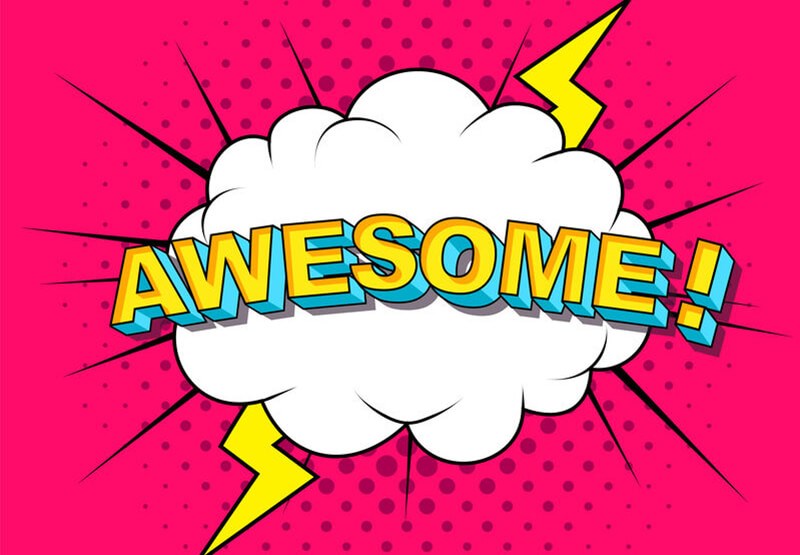 It's tricky to explain just how exciting it is getting stuck into a new website design. Yes - really!
Find out what goes in to a website redesign and why
How to find your Target Market to getting the right Halo Effect - it's all in here so read on and find out why we love website design and get really excited about developing new websites for businesses in UK.
Speaking on a personal level here, I absolutely love my job. I'm a director of aprompt website designers in Chippenham, Wiltshire but that doesn't really mean much does it? It's what I do for our customers that really counts. I feel that my job is more helping businesses have trust in websites (especially for those companies who've had a bad experience with another web design company), to increase their revenue, get a handle on their PR and marketing and really focus on how they want the world to see them online. It's so exciting seeing a client relax and realise that they have chosen the right website design company in aprompt and that they will get a great website they can rely on to work well for them, that won't break down, is easy to edit and doesn't cost the earth.
Reading that back it sounds a bit cheesy doesn't it? but I do mean it. I would prefer to spend lots of time with a client researching their business sector and getting it right rather than just plonking a website in their laps and telling them that's what they're gonna get because that's the only thing available. All websites we create are for the client and their customers.
Creating a website for a client means giving them advice on the type of website they could have (and believe me there are hundreds of different functions you can have in a website) and talking through lots of different options and giving them the pros and cons (if there are any) of each. I like to give clients as much choice as possible - this includes any function they like to make their lives easier, and a choice as to whether they write their own content and source their own images, or we research and write the content and source images then add it to the website each month. There really is a limitless choice, so I'm here to help and guide clients in what works best for their business and their lifestyles.
Remember.... a website needs constant 'feeding' of information nowadays; you can't leave a website to fester with no new unique content. Websites are harder work than they've ever been, so we make sure our clients time is used in the most efficient way possible. Happy clients, happy aprompt.
Thank you website clients
We treat our clients like we would like to be treated. And we always give that little bit extra whenever we can - this could be the addition of a clever little widget in their website that they weren't expecting or some free SEO (search engine optimisation) advice or some search engine friendly text created for them that they weren't expecting. Whatever it might be, it gives us a buzz to keep our clients happy. If it weren't for our happy clients, we wouldn't be celebrating our 20th year designing and building websites! So thank you clients - we love working with you all!
Designing websites starts with a phone call or email into our office. We get website enquiries from all types of clients including one-person businesses, start-up businesses, craftspeople and SMEs from all business sectors from electricians, plumbers and builders to consultants, commercial industry suppliers and retailers, to name just a few! Each chat/meeting starts with an investigation into what the website needs to achieve for that client. We delve into what the business offers and where they want to see themselves in the future, say in five years time. From that we can establish the type of target markets they are wanting to attract and ultimately convert into a sale.
Targeting your market online
Your primary industry and its audience should be carefully thought about when considering any website redesign and restructuring including a viable SEO strategy. So you'd need to think about:
What industry are you in?
Who are its top competitors?
Where do your competitors primarily do business?
How are your competitors primarily executing their SEO strategy?
What competition is the fiercest?
These questions and more will determine the steps in forming your website structure and SEO strategy and these various moving parts will all make sense as we nail down the details. Knowing your target market is essential as this will make sure the website attracts the right kind of customer to your business. This sounds really obvious but you may be surprised that a lot of clients haven't really thought about who they're trying to target and they just want to target everyone in the world - which is fine too, of course! But there's so much more that goes into a website other than just the design and how it looks.
So when we are in a meeting; which could be face-to-face or over the phone as we have many clients all over the UK - some we have never met but have been customers of ours since we started in 1998 - which is great; we think about the functions of the website first and then the design flows after that. So both function and design are equally important because each function in the website has to work well on a desktop and a mobile device.
What's the Halo Effect
After we've discussed the functions of the website and the best way of going forward, we think about the design which includes colours, layout, style and the feeling that the client wants their customers to have when they land on their website. Years ago back in the 90's when we started there was a buzz word called the halo effect. It's still relevant now which is nice to know something has changed!
The halo effect is the opinion a person forms in their brain about your company within milli-seconds of landing on your website. It might be the right opinion but it could also be the wrong opinion - that's the key to getting the design and layout right. If your website hasn't been touched for years and the design is a bit clunky, it's not mobile responsive and the text is too tiny or too big, then it's probably time to give your website some tender loving care.
Website meetings
During meetings with clients we come up with suggestions the client may not have thought of as we look at each area of the business in a different way. Sometimes it's difficult for a business to see the wood for the trees, as it were, so we help them take a step back to look at their business in bite -sized chunks. i.e. Who the target market would be. What kind of functions would suit that target market to get them to call/email/buy/enquire. etc. This takes a bit of analytical thought but clients only need to give us what they want to achieve in the end, and we work out the best way, and the most cost-effective way, to achieve it for them with a great looking website that works hard for that business. We don't up-sell or over-sell, we just create the best websites to give our clients exactly what they need.
Free website meetings
To request a free, no obligation meeting or a chat over the phone about your business and the type of website that would be best for it, contact our website designers in Wiltshire today.
Written by Kirsty Paget