Low cost 'Pay As You Go' websites
Low-cost 'Pay-as-you-go template websites' with Content Management System with unlimited pages! From only £40/m (excl weekly backups) with a professional CMS and optional Blog and Gallery. Choose from our stunning selection of ready-made CMS website designs.
CMS Express Packages
Our CMS Express websites are fantastic value, low cost fully editable websites from as little as £40 a month! As part of our Pay-as-you-go website packages you get all the benefits of a professional website that's ready to go live in a matter of days.
Using our custom built, feature-rich CMS (Content Management System) you can instantly and easily add, edit, delete, disable, enable multiple pages and the content within. In addition you can have a Blog and Gallery as part of the website too!
This low cost website has a fully professional CMS and allows you to choose from a selection of our website design templates - designed by our own website designers in the UK.
Pay as you go template websites
With just one small easy monthly payment for a custom-built editable website, choice of website design templates, free hosting, free email accounts, free code updates for life and no contracts - it's a no-brainer!
CMS Express - getting started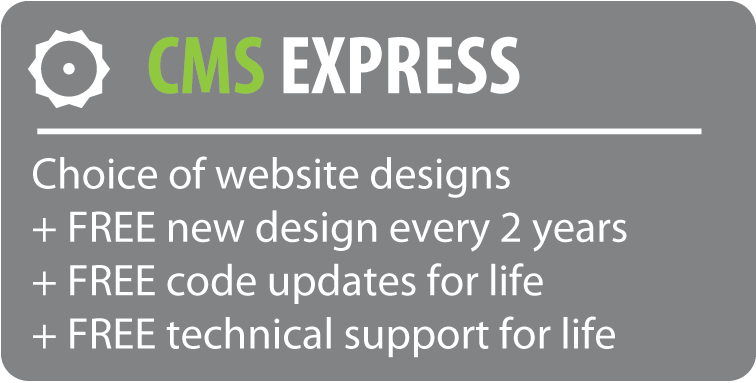 Contact us to discuss your target market and what you would like to achieve with your website.
You can then choose the website design you fancy (either online or at our offices in Chippenham, Wiltshire) and we'll adjust the colours to suit your branding.
Then we'll integrate your logo before the site is built ready for you to add your content. It is quick and easy to get your new website online and we'll be with you every step of the way.
There's no contract, just one easy monthly payment. Fill in the form below and we'll contact you back.
Free support
We advise, support and train you for free and offer our fully managed website package too. So if you wanted the content written for you from scratch or just spruced up, search engine optimised or just added to each month, we can do that for you too as an additional service.